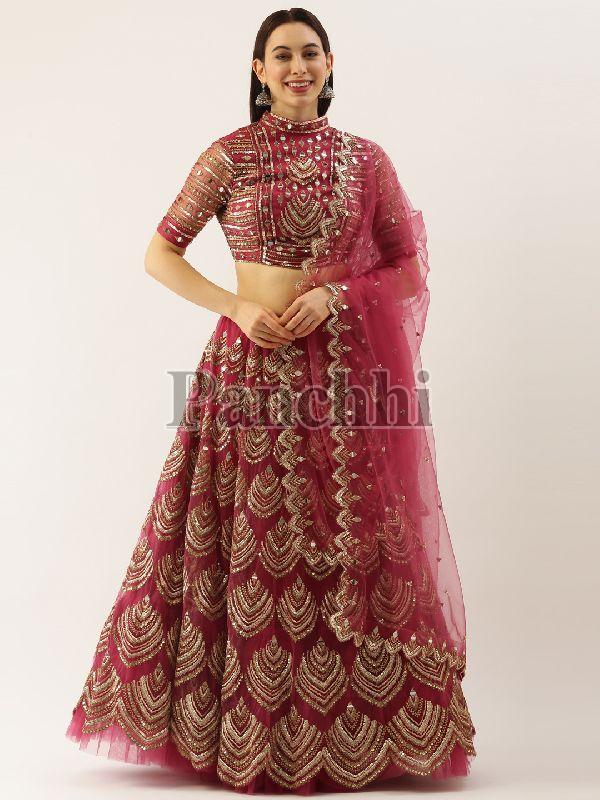 Imagine you have a wedding to attend. It is the first one that you have attended in years. Or it is the wedding of your best friend. Or maybe it is your reception. You will look forward to wearing a glamorous outfit in either of these scenarios. It is not only about looking good but also carrying the outfit. So, what is the most common outfit on such occasions? Lehenga.

High on Traditional Fashion


The lehengas carry tradition and art with them. They have existed in the fashion world for many years and have undergone countless revisions and interpretations. There is nothing as beautiful as a traditional lehenga. Wearing a
mirror work lehenga
to an occasion gives you the power to stand out.
The outfit has grace, glamour, class, elegance, and more. It will make you dazzle whenever you wear it. There are many types of lehengas. The mirror lehenga is at the forefront of the fashion trend right now. The concept of the lehenga comes from the "chinkarkri" in Rajasthan.


Contrasting colour combinations make it striking to the eyes. It is very eye-pleasing, and the glimmer in the mirror work adds a beautiful amalgamation that makes the whole outfit look more impressive.


Silhouette of the Lehenga


The mirror work lehenga looks the best with a pop of colours in the combination. They have pastel-hued ones that look good on anyone. The soft tones suit any season and festive occasion. Even the bright colours will stun not only the ones who look at you but yourself as well. The mirror work and the beguiling colours make it a beautiful outfit that will leave everyone in awe.


The silhouette showcases various designs. You can choose the best one that complements your style. There are many types of lehengas- shirts and skirts and short lehengas, the high-low lehengas. The bustier with the lehenga, the lehenga with the panels, the peplum lehenga, and more are quite the staple in the wardrobe for festive occasions.


Variety of Fabric and Designs


The mirror lehengas are mostly hand-embroidered. The designers will put the mirrors or the "shisha" on the fabric and align them with the design. They are often hand-stitched and stuck on using special glue as well.


The mirror work suits many fabric types, from chiffon, georgette, and velvet, that can make a simple fabric into an elaborate garment.


The mirror often makes different patterns like flowers or abstract or geometrical shapes. They can dye the "zari" any colour depending on the fabric's colour. The zari can be blue, gold or pink, or white. They will contrast the colours with that of the lehenga.


Pair the Lehenga in New Drapes to Create an Exciting Look


You can do so if you want to go for the old traditional look. But you can also add a little spin to the traditional lehenga. For instance, you can wear thigh-high slit skirts or pair the lehenga with a shirt. You can also wear minimal jewellery when the lehenga has a lot of embroideries.


On the other hand, if the lehenga is heavily embroidered, then you can choose no or very minimal jewellery and hairdo, and makeup.